We've had an incredible response to our 15% bonus Cycles offer which ended yesterday. We'd like to welcome all of those who purchased a new license and congratulate those who expanded their network. It was a real opportunity to maximize on the Frequency Lock system before it is removed on September 30th.  You can read more about the important news regarding Frequency at the bottom of this email. But here's the big news:
If you missed out, don't worry.
We're going to extend the offer with up to 20% bonus Cycles!
And if you're already a license holder, we've got an offer for you too.
Buy your license here https://netleaders.com/ref/residual  to benefit from the new 20% discount.
---
New licenses
From August 16th until 23.59 August 31st all new licenses will receive the following bonus cycles.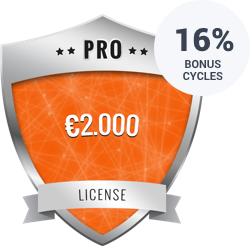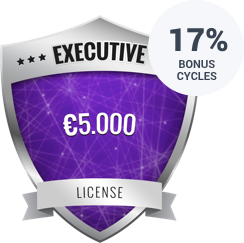 If you missed out on the 15% bonus Cycles promotion, make sure you let your team and prospects know that we're giving everyone another chance to maximize their licenses with even bigger offers.
Existing Dascoin license holders
If you've been thinking about upgrading your license, now is the perfect time.
Upgrade any license before the end of August and receive 10% bonus Cycles 
To make things even better, you'll keep the Frequency Lock of the license you're upgrading. For example, if you purchased your license with a Frequency Lock of 7.4, when you upgrade you'll transfer that Frequency Lock to your new license and receive 10% bonus Cycles. 

This is an incredible opportunity to maximize your license before the Frequency Lock is removed on September 30th and multiply your early mover advantage.
Important news for all Dascoin leaders
Following September 30th any new Cycles purchased or received will not be given a Frequency Lock. Instead they will be subject to the Frequency changing on the 1st and 16th of every month.
What does this mean?
It means that you decide when to submit your Cycles to the Minting Queue.  You will need to decide if you hold on to your Cycles and wait for your eligible Upgrades (and the doubling of Cycles that come with those) — OR — submit your Cycles right away and forgo the Upgrades but lock in a lower Frequency.
If you buy a license before September 30th, you won't have to make this decision: your Cycles are automatically submitted and you'll also receive the doubling of Cycles on each Upgrade you are eligible for — even though your Cycles are already in the Minting Queue. It's a huge benefit, but it will be disappearing soon! So make the most of it and multiply your advantage whilst our amazing offers are live.
Share the news
Be sure to share the information in this email with your team and prospects. Now is the perfect time to buy a NetLeaders license. Receive 14 – 20% bonus Cycles until 23.59  Thursday, August 31st. 

Or upgrade any license before 23.59  Thursday, August 31st and receive 10% bonus Cycles as well as retaining the Frequency Lock of you're previously purchased license.
Get in touch
If there is anything you would like to ask us about regarding this email, please don't hesitate to get in touch via support@netleaders.com
Bonus Cycles acquired for all new licenses purchased before 23.59 Thursday August 31st vary as per the license type:
Standard license includes 14% bonus Cycles, Manager license includes 15% bonus Cycles, Pro license includes 16% bonus Cycles, Executive license includes 17% bonus Cycles, VP license includes 18% bonus Cycles, President license includes 20% bonus license.
Buy your license here https://netleaders.com/ref/residual  to benefit from the new 20% discount.